Standing at Macrath Stud Nottingham Road, 3280, Midlands, South Africa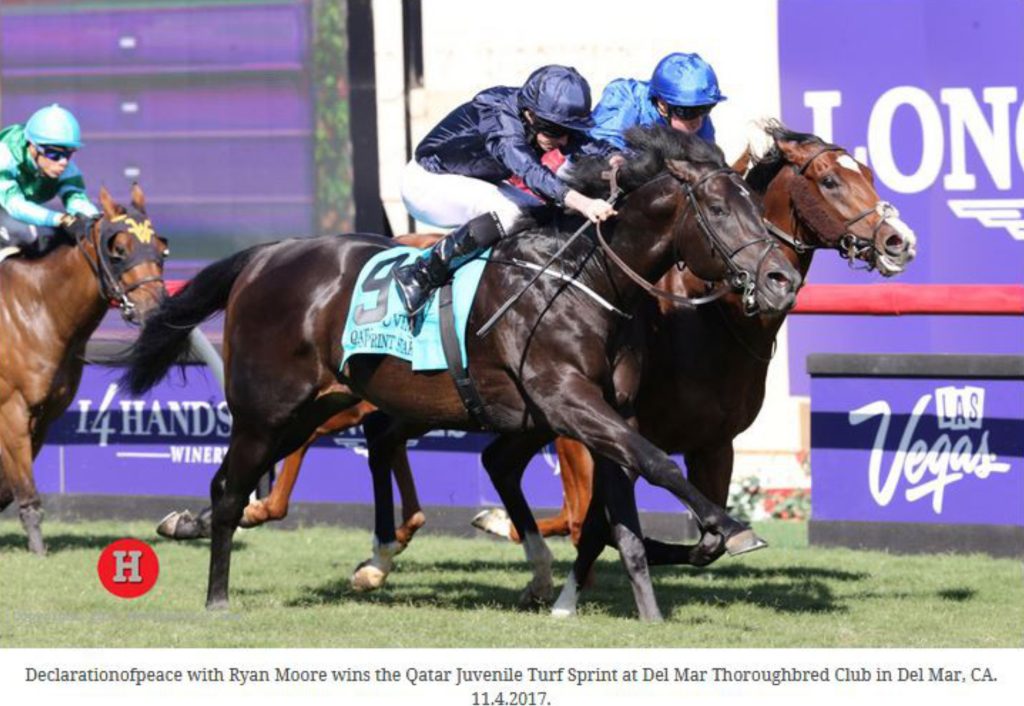 Excellent CONFORMATION – acquired by MV Magnier, Coolmore as a foal for $2,6million
 
A horse with BRILLIANT and PRECOCIOUS SPEED.
 
Son of one of the world's great stallions WAR FRONT (USA), sire of 72% winners and about to join the excusive club of great stallions to sire more than 100 individual Stakes Winners
 
In South Africa, both Drakenstein Stud and Wilgerbosdrift Stud have already imported sons of WAR FRONT in Lancaster Bomber (Gr.1 Winner at 2000m. Stud fee R40,000), and Fire Away (Gr.3 Winner at 1700m. Stud fee R25,000).
 
SPEED is the 'sine que non' – the absolutely essential condition -of racehorse breeding, as there is no antidote for a slowness in a racehorse!
 
His first 3 dams of DECLARATIONOFPEACE are ALL STAKES WINNERS, and ALL are by
If stallions rely on the build-up of Champion Genetic Potency to pass on to their progeny, this pedigree must rank amongst the very best and provides a measure of confidence.
Great Female lines generally begin with the emergence of a champion racemare, in this case 3rd dam SERENA'S SONG. She won 18 races, of which 17 were Stakes races, and she won 11 Grade 1 races which included the defeat of colts. Her toughness and soundness are her genetic legacy. She has founded her own dynasty of quality runners, many of whom have become SW producing stallions. This includes DECLARATIONOFPEACE's two half brothers : NOBLE TUNE (Unbridled Song), sire of the 2020 Gold Cup winner Paths of Victory, and HONOR CODE (AP Indy), a leading 3rd crop sire in USA, who stands at US$20,000 stud fee at Lanes End Farm in Kentucky, and sired the 2020 Santa Anita Derby winner Honor AP. Both sire stamina. This brings us to the conclusion that DECLARATIONOFPEACE may well sire his own speed AND impart his family stamina!
This is the goal and hallmark of Great Stallions.